How much of your home do you own?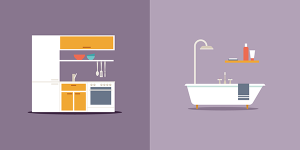 Although you may have purchased a property, how much of it do you actually own right now? It's estimated that at point of purchase the average UK buyer in effect, owns the equivalent of the kitchen and a bathroom.
Thinking of moving?
If you're contemplating your next house move, then you'll need to work out how much equity you have, the amount of your existing property you own. To make a rough calculation, you'll need to know what your property is currently worth, and subtract the amount of mortgage you have outstanding. So, if you have a property valued at £300,000 and your outstanding mortgage is £175,000, then your equity is roughly £125,000.
Knowing what equity you have will help you decide how much you can afford to spend on buying your next property. If you're thinking about moving, then it makes sense to talk to us, as we can help you calculate the amount of mortgage you'll need, give you an indication of the interest rate you're likely to be charged, and help you make your application to the right lender.
As a mortgage is secured against your home or property, it could be repossessed if you do not keep up mortgage repayments.