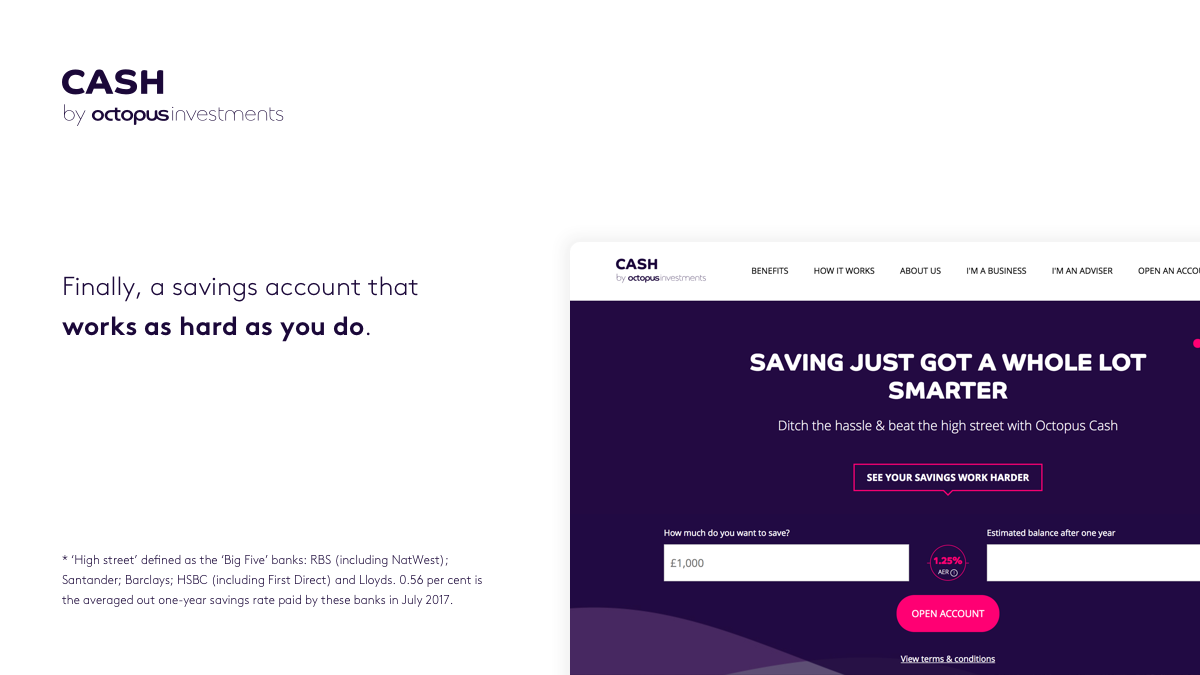 Octopus Cash
Ditch the hassle and beat the high street
In today's low-interest environment, looking for a better rate has never been more important. But, for many of us, this can seem like too much hassle for very little reward. Surely there must be a better way?
Octopus Cash – a new, one-year fixed term savings account – could help. By working with some of the best challenger banks around, it's able to target a rate of more than double the high street average.*  For your first £85,000, they will find the bank paying the best rate and once you invest more that that, they will split your money to ensure you get maximum protection.
Designed to be a hassle-free, hands-off savings service, all it takes is one application form. Then, at the end of the one year term, it'll automatically switch you to its best available rate.
What can you expect?
Better rate
Targeting a rate of over double the high street average, Octopus Cash is a savings account that works for you.
Hassle-free
Get set up in seconds and say goodbye to switching. At the end of the one-year term, Octopus will automatically switch you to its best available rate.
Maximise your protection
Your first £85,000 will be invested with the bank paying the best rate, with all your money protected by the Financial Services compensation Scheme. Once you invest more than £85,000, your money will be spread across three challenger banks (a challenger bank is a relatively small retail bank set up with the intention of competing for business with large, long-established national banks), which will provide three times the amount of Financial Services Compensation Scheme coverage (£255,000), all with just one easy sign-up process.
Minimum deposit is £1,000.
*'High street' defined as the 'Big Five' banks: RBS (including NatWest); Santander; Barclays; HSBC (including First Direct) and Lloyds. 0.56% is the averaged out one-year savings rate paid by these banks in May 2017.
Octopus Cash is offered by Octopus Co-Lend Ltd., 33 Holborn, London, EC1N 2HT – which is authorised and regulated by the Financial Conduct Authority (FCA registration number 722801). Octopus Cash is managed on a day to day basis by Octopus Institutional Deposits Limited (Company registration number 10163532). Money placed via Octopus Cash will be with UK PRA regulated credit institutions.